Guadalupe Alejandra Welles, commonly known as Mamá Welles, is the owner of El Coyote Cojo bar in Heywood, and the mother of Jackie Welles.
Biography
Mamá Welles was married to Raúl Welles, a member of the Valentinos. Living in Night City, they had several children born, including Jackie. However, Raúl wasn't the best of husbands as he constantly physically abused her and their sons. Eventually, a grown up Jackie had enough and beat him almost to death, stating if he ever returned he would finish what he started.
At some point during her life, she lost several of her sons and got overly protective of Jackie, who was the only one left.[2]
After Jackie and V had their first job together, she allowed them to move with her and Jackie in their house, somewhere in Heywood. After six months, V left them to find an apartment of their own.[3] During this time, Jackie had been dating an old childhood friend of his, Misty Olszewski, but Guadalupe didn't approve of the relationship, instead preferring another girl from Heywood.[1]
Database Entry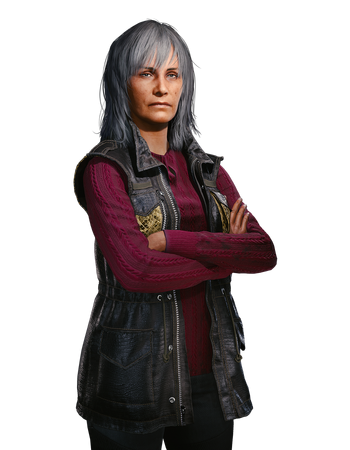 Mama Welles
---
Guadalupe Alejandra Welles - but everyone calls her Mamá. It's almost taken for granted that whoever walks through her front door can count on being listened to as well as sitting down to a delicious meal. And like every mother, she would give up anything - even her life - to protect her children.
An important figure in Heywood - even the toughest Valentinos nod in respect when she passes. Padre even once said that not only does Mama Welles have a good heart, but that she's tougher than any ganger in the district.[2]
Associated Quests
Notes
Once all associated activities have been completed, she remains a permanent food and drink vendor in El Coyote Cojo.
Gallery
References